The Bonifacio Monument –  'Monumento' sa Kaloocan (Facebook)
History:
(Ed's note: As we celebrate National Heroes Day today (November 30) in the Philippines, we present two views on the two prominent figures in Philippine history – Jose Rizal, whose day is celebrated very December 30,  the day he was executed by the Spanish colonizers in 1896 and Andres Bonifacio, on November 30, as Bonifacio Day in commemoration of his birthday on November 30, 1863.)
The case for Andres Bonifacio as the first Philippine president
GMA News
Published August 25, 2013 4:06pm
As children are taught in school, Andres Bonifacio is the father of the Philippine revolution. Still, there are those who believe he had another role in Philippine history — as the country's first president.
Bonifacio, often portrayed with a bolo in hand, is most known for leading the Katipuneros' revolt against the Spanish colonizers.However, he died not in battle but under orders from another Katipunero, Emilio Aguinaldo, who is currently recognized as the first Philippine president.
Aguinaldo won in a snap election during the Tejeros Convention between the Magdiwang and Magdalo — two rival factions of the Katipunan.
The belief that Bonifacio should be recognized as the first President of the Philippines is based on his position as Supremo of the Katipunan revolutionary government from 1896 to 1897.
"From that point on, the Katipunan ceased to be a mere revolutionary organization into a revolutionary government. Ang unang pambansang pamahalaan sa Pilipinas," historian Xiao Chua said.
The first Philippine government?
On August 24, 1896, Andres Bonifacio convened the Kataastaasang Kapulungan (Supreme Council), declaring an armed revolution against Spain.
It was in the same meeting that they established the Katipunan as a national government, and held an election of officials to lead the army and the nation.
"The Katipunan was more than a secret revolutionary society; it was, withal, a Government. It was the intention of Bonifacio to have the Katipunan govern the whole Philippines after the overthrow of Spanish rule," Gregorio F. Zaide, who wrote a history of the Katipunan, was quoted in an article by historians Milagros C. Guerrero, Emmanuel N. Encarnacion, and Ramon N. Villegas.
Bonifacio referred to the country as Haring Bayang Katagalugan ("Sovereign Tagalog Nation"), Guerrero wrote in "Reform and Revolution, Kasaysayan: The History of the Filipino People 5."
In letters addressed to Emilio Jacinto in 1897, Bonifacio's titles and designations included Ang Kataastaasang Pangulo and Pangulo ng Haring Bayang Katalugan—his concept of the Philippine nation.
Bonifacio defined "Tagalog" as the term for all Filipinos, and not only those who spoke the language. In referring to the nation as Katalugan, Bonifacio went against the colonial "Filipinas."
Should the Katipunan revolutionary government be recognized, this would predate the Tejeros Convention on March 22, 1897.
Bonifacio arrived at the meeting, which was intended to resolve the issues between the two groups. However, Aguinaldo wanted to dissolve the Katipunan and establish a revolutionary government.
"Iyon ay isang masasabi mong maneobra para matanggal na si Bonifacio sa puwesto. Habang andoon ang Katipunan hindi siya matatanggal. So pinalitan nila ang agenda," UP Manila professor Danilo Aragon said in "Case Unclosed: Ang Lihim ng 1897".
Snap elections were held, and Aguinaldo was voted president. Meanwhile, Bonifacio was voted as Director of Interior.
Daniel Tirona, a Magdalo, protested Bonifacio's election, claiming he was not qualified for the job. Insulted, Bonifacio, who presided over the election, declared the assembly dissolved. The next day, Bonifacio and other Magdiwang members created the Acta de Tejeros, a document stating they did not adopt the election results of the convention.
"Yung klase ng trapo politics na mayroon tayo ngayon, ay nagsimula pa noong panahon pa nila Aguinaldo sa Tejeros Convention. Nandoon na 'yung lokohan, panlalait sa mga kandidato na walang pera," Aragon said.
On May 10, 1897, Bonifacio and his brother Procopio were killed under orders from Aguinaldo, who issued a statement 50 years later saying he had authorized the death sentence as advised by members of the Council of War.
A photo of Aguinaldo's statement dated March 22, 1948 was published in Teodoro Agoncillo's "Revolt of the Masses."
"Kawawa si Bonifacio, dahil parang hindi siya binigyan ng tamang respeto bilang nagtatag ng Katipunan at nagsimula ng rebolusyon," Villegas said in "Case Unclosed".
Aguinaldo ordered the commutation of the death sentence, but was convinced otherwise. The brothers were killed in the mountain of Maragondon, Cavite, and reports say Bonifacio's wife Gregoria De Jesus was raped by one of Aguinaldo's men.
Aragon said De Jesus searched for Bonifacio in the mountains for one month, because she had not been told that her husband was already dead.
"Kung binuhay mo din si Bonifacio, manggugulo naman siya. Kung na sa sitwasyon ka nung kampo ni Aguinaldo, hindi mo rin siya puwedeng hayaan na buhay," Villegas said.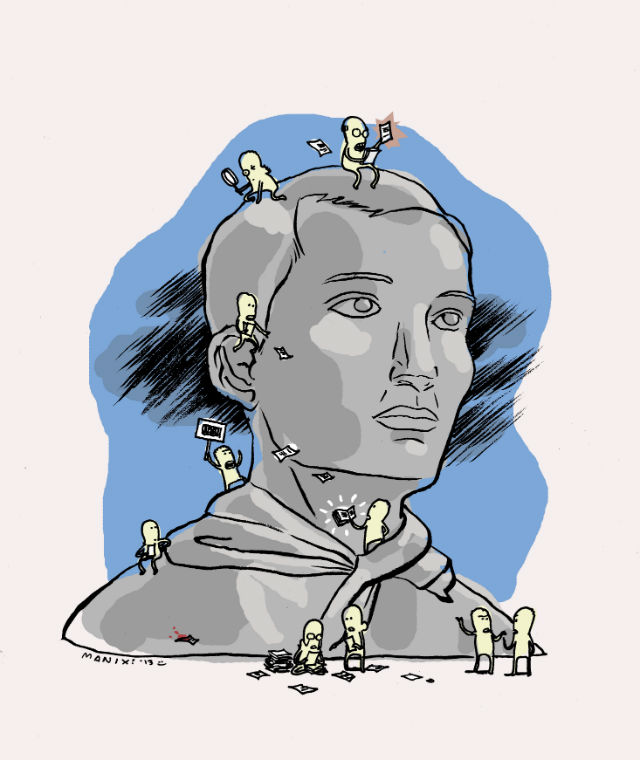 The descendants
Unsurprisingly, the descendants of the two men hold different opinions on the matter. "Kaya yan ang kinikilala naming hero ng pamilya sapagkat siya ay nakipaglaban sa Kastila at naproklama niya ang ating kasarinlan," said former Prime Minister Cesar Virata, Aguinaldo's descendant.
"Yung pagpatay sa kanya, state-sponsored killing 'yan eh. Kasi para maging legitimate yung pagpatay sa tao kailangan idaan sa isang due process," said attorney Gregorio Bonifacio, Procopio's great-great-grandson.
According to the late former Supreme Court Justice Abraham Sarmiento, Bonifacio and his brother were not given due process. Sarmiento, in "The Trial of Andres Bonifacio: The Appeal" also said that Aguinaldo's camp did not have enough evidence against the brothers.
But Aguinaldo's kin believe Bonifacio's actions were a crime against the country. "Mayroon din kaming mga storya at mga history books at sources na magsasabi na nararapat lang ang naging desisyon ni Emilio Aguinaldo noon, considering yun ay panahon ng digmaan," said Transportation Secretary Joseph Emilio Abaya, great-great-grandson of Emilio Aguinaldo.
The boy from Tondo
The eldest child of a tailor and a factory worker, Bonifacio was able to reach the equivalent of second year high school and took care of his five siblings after their parents died.
In 1892, he joined La Liga Filipina, which was founded by Jose Rizal. In the same year, he established the KKK (Kataastaasan Kagalanggalangang Katipunan ng mga Anak ng Bayan).
With Rizal's exile to Dapitan, La Liga Filipina collapsed. Meanwhile, the Katipunan grew over the next few years, and the revolution was launched in August 1896. Apart from historians, others have pushed for Bonifacio's recognition as the first president, including Sentro ng mga Nagkakaisa at Progresibong Manggagawa (SENTRO) and Bonifacio's own kin.
"Para sa kanya, ang kalayaan ay nangangahulugan ng kaginhawaan. Magkakaroon lang ng kaginhawaan ang mga mamamayan kung ikaw ay malaya sa kahirapan, malaya sa kamangmangan, malaya ka sa pangaapi," Josua Mata, secretary general of Alliance of Progressive Labor (APL) and co-convenor of SENTRO said.
Meanwhile, Bonifacio's descendant Gregorio said they want to correct what is wrong. "Bilang apo ni Bonifacio, natural gusto naming itama kung ano ang mali. Not for anything else, because para yung susunod na henerasyon at nabasa nila na ito ang tama, alam nila kung ano ang gagawin nila," he said.
But while the National Historical Council of the Philippines is open to such petitions, they maintain that Bonifacio was not the first President.
"We do not think of him as the first President, but rather we think of him as the leader of the Katipunan. Because for one reason, we do not yet have a government to call our own at that time," said commission member Bryan Anthony Paraiso.
"It does not diminish his contribution to Philippine history," Paraiso also said. — BM, GMA News
Illustration by Manix Abrera
Why I hate Jose Rizal
PAPERCUT BLOGS·FRIDAY, NOVEMBER 30, 2018
By Joel Pablo Salud
Editor in Chief,
Some Filipinos hate Jose Rizal. I am one of them.
Reasons vary. For some, Rizal was too much a part of the bourgeoisie to soil his hands with blood and gunpowder. Others stress he was a lackey of the Americans, a "safe" choice for a Filipino national hero all because his image as a writer fit into their "democratic" and "savior of the world" molds, unlike the revolution's Supremo Andres Bonifacio. 
Likewise, there are those who insist that Rizal's refusal to be rescued from his prison in Dapitan and to take part in the revolution, regardless of Bonifacio's prodding via Pio Valenzuela, did much to reveal Rizal's "true" intentions: assimilation into the Spanish government rather than complete and utter independence from the colonizers.
To many, Rizal was a traitorous pencil pusher, a self-willed Ivory Tower recalcitrant. 
Dr. Jose Rizal
Duwag. Plain and simple.
As for my reason, I hate Dr. Jose Rizal because he was right in refusing to direct a premature bloody revolution. 
Notice that I didn't say he was against the revolution.
On the night Pio Alejandrino Valenzuela paid Rizal a visit in Dapitan, and there expressed word of the Katipunan's plans to rescue him, with additional revelation that the Katipunan's revolution might kick off prematurely despite the lack of arms, Rizal said: 
"This I do not approve. A revolution without arms should never be started against an armed nation. Its consequences will be fatal and disastrous to the country. The Filipinos will necessarily have to lose owing to lack of arms" (Taken from "My Conference with Dr. Jose Rizal in Dapitan," which forms part of the "Memoirs of the Katipunan and the Philippine Revolution" by Dr. Pio A. Valenzuela, http://j-rizal.blogspot.com/2007/04/dr-pio-valenzuelas-conference-with-dr.html).
In the same memoir, Pio Valenzuela offers us a glimpse into both their exchanges:
RIZAL.—Tell our countrymen that, at the same time that we are preparing for a war against Spain, I desire to see a college established in Japan which will be converted later into a university for Filipino youths. I shall be greatly pleased to be the director of said college.
VALENZUELA.—I shall bear in mind all what you say and counsel, but I believe you would rather direct the revolution than manage the college.
RIZAL.—I am ready for both.
VALENZUELA.—As soon as we have arms and munitions we shall try to take you out of Dapitan before the revolution starts in order that the Spaniards may not get you and shoot you.
RIZAL.—As soon as you obtain arms, start the war against Spain right away; do not bother about me for I will know how to get out of here by any craft with the help of the Moros. When it comes to the redemption of the country, you must not look behind for just one man.
VALENZUELA.—If the revolution breaks out before schedule and you are still in Dapitan, the Spaniards will hold you and have you shot.
RIZAL.—To die and conquer is pleasant; but to die and be conquered is painful.
Historian Teodoro Agoncillo, in Chapter 10 of his book "Revolt of the Masses" published by the U.P. Press in 1956, made a startling revelation regarding this account:
"It has been customary to cite Dr. Valenzuela's 1896 testimony, as printed in Archivo, Vol. III, to the effect that Bonifacio, upon hearing that Dr. Rizal objected to the proposed uprising without the necessary arms, exclaimed: "Lintik! Where did he read that in order to have a revolution there must be arms?" In that testimony, it was also pointed out that Bonifacio insulted Dr. Rizal behind his back and went so far as to call the latter a coward. When interviewed on this particular account, Dr. Valenzuela said: "No such thing ever occurred. In fact, TO PROTECT RIZAL I purposely told the investigator that I was not even allowed by the hero to step into his house upon knowing the purpose of my visit to Dapitan. I also reported Dr. Rizal as having said: "No! No! No! And a thousand no!" Even so, the Spanish prosecutor during Rizal's trial did not make my statement public – a fact which showed the authorities were bent on liquidating Rizal at all cost. As to Bonifacio's outburst, I can say that, too, was my own invention, obviously TO PROTECT DR. RIZAL BY MAKING HIM APPEAR VERY MUCH AGAINST THE REVOLUTION. The truth is that Bonifacio saw the logic and wisdom of Dr. Rizal. Bonifacio himself knew that we lacked arms for the projected uprising, and so he instructed me to order some two thousand bolos, which I immediately complied with. I ordered 1,000 bolos from the men in Saluysoy, Maykawayan, Bulakan and another 1,000 from Binakayan, Cawit, Cavite."
I'm no historian. For all we know this could all be bogus. To whet my curiosity, I asked a friend, a respected historian, if we can trust the account. He said, yes, thanks to the mentioned source. So, if this account of the conversation between Jose Rizal and Pio Valenzuela holds true, then there is much to say about some people's prejudicial hatred for Rizal. 
For Rizal, apparently, a revolution waged prematurely, without sufficient weapons at their disposal, would be a bloody revolution–much of it their own. To lose and be conquered yet again wasn't an option. To lose the fight–their one chance at beating the odds–would crush whatever confidence was left in the Filipino to stage an uprising. 
Rizal knew, on the other hand, that this struggle would drive the Spanish conquistadores crazy, what with another revolution in Cuba siphoning much of Spain's war resources at the time. 
Desperate to hold on to its colonies, Spain's monarchy could unleash a violent reprisal the likes of which would render the resistance broken and, later, obsolete. Filipinos had one chance at battling the odds. To lose now was to douse the fire of the resistance for all time.
Forced to wage an armed uprising shortly after having been discovered by the Spanish authorities, Andres Bonifacio's revolution had little choice but to commence on August 1896. Four months later, Rizal was executed in Bagumbayan via firing squad.
Pio Valenzuela knew the authorities would come for them sooner than later, thus he reiterated to Rizal the possibility of staging a premature rebellion.
No, Rizal wasn't against the revolution, if at all Pio Valenzuela's account of their conversation proves true. In addition to Valenzuela's memoirs, all of Rizal's writings point to this fact. 
My own take on the matter is this: Rizal's refusal to direct the revolution comes as a lesson in the art of Rizalian struggle: to never look at one person as the source of the light and the fire. To him, heart and mind must figure in the battle for our freedom. To charge with one and dispense with the other is suicide.
Who will build and lead the republic if all were ignorant, or worse, dead because of ignorance? Because all they had to go on was rage?
Supremo Andres Bonifacio
To celebrate Bonifacio's 155th birth anniversary, allow me to say it's cool to want to be the Supremo at a time when tyranny is alive and well in our country. It's good to emulate Bonifacio's courage in the thick of a dictator's murderous rampage.
However, remember this: no Filipino can be an Andres Bonifacio without Jose Rizal. They formed the revolution's singularity of mind and heart. Bonifacio himself acknowledged, even hailed, Rizal's contribution to his revolution. 
To hand over to Rizal the job of directing the revolution, what did it mean for Bonifacio, the leader and Supremo of the Katipunan? "Command me and my men, and we will go." That's about the gist of it. Bonifacio was willing to put his life and the lives of his Katipuneros in the hands of Rizal.
But why would Rizal refuse such an honor? For him, perhaps,there was more to waging a revolution than meets the eye. Revolution, for Rizal, is the enterprise of the individual bonding with the many, each individual fire melding and fusing to form a single huge conflagration. For it to flourish, no man must hold the torch alone.
"When it comes to the redemption of the country, you must not look behind for just one man." 
Likewise, it would be naive to say that Rizal wasn't aware of Bonifacio's ability–both mentally and physically–to wage war against Spain, if only weapons were at hand. 
 hate this sonofabitch.